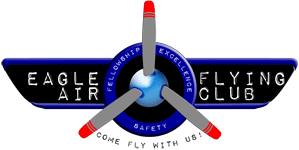 Wood County Regional Airport (1G0)
Bowling Green, OH
419-318-8900
Eagle Air Flying Club is incorporated, in the State of Ohio, as a non-profit Social / Recreational organization. We are an informal group of pilots with the love of flying and interested in spreading the joy of flying in safe well maintained aircraft. The club was founded in June of 2003; with the purchase of our first airplane, a 1975 Cessna 150.
While we are not a flying school, we accept people who want to learn to fly into the club as members. We can assist you in finding an instructor who is acceptable to use our aircraft for the instruction of our members. Currently, that instructor does not have to be a member of Eagle Air Flying Club, but all arrangements with that instructor are outside of anything to do with the club. As a full or associate member you may use club aircraft for instruction as long as you follow all appropriate rules and regulations of the club and FAA.
In 2004 we purchased N5592F, a 1968 Cherokee 140 which is IFR equipped with a VFR GPS. We sold the Cessna 150 in July of 2005. In August of 2005 we bought a 1977 Cessna 172N. It was IFR certified with VFRGPS. In June of 2006 our Cessna 172N was destroyed in a storm. On December 4, 2006 we purchased a 1966 Cherokee 140, N7017R. It has a 160HP engine and speed mods. it is also IFR certified, but does not have a GPS. In February of 2007we gave N5592F a 160HP rebuit engine during it's annual inspections. During the course of 2011 we did a lot of upgrades to 92F, new Mode S Transponder with traffic, rebuilt prop, extensive annual inspection, new interior panels, carpet and seats, over $15,000.00 in total. Our latest move to improve the club is the addition of our new Piper Arrow II, this four seat complex airplane is awesome for getting there for business or pleasure at a reasonable price.
We are looking to grow our club and are open to new members. We want to keep our active member to airplane ratio to about 15 people per airplane. We usually meet every second Saturday of the month at the Wood County Regional Airport, conference room, at 10:00 am. At this meeting we discuss club business, up-coming events and socialize. We welcome all visitors. Please visit our website for additional information.